Ideas
Hair Salon lighting
In hair dresser salon, along with creating nice atmosphere with lighting it is also important to have correct lighting fixtures for hair styling and coloring area. When styling and coloring the hair, it is crucial to have the right color temperature in lighting to be able to see the hair color result inside the salon the same as it is outdoors. No more expensive color-redoes – with our LED products you will get the right light for each area of your salon. Your clients will enjoy their stay, relax and come back to your salon and the workers enjoy working in a good quality lighting.
Upper photo: Hair Salon Hairlekiini Hansa, Turku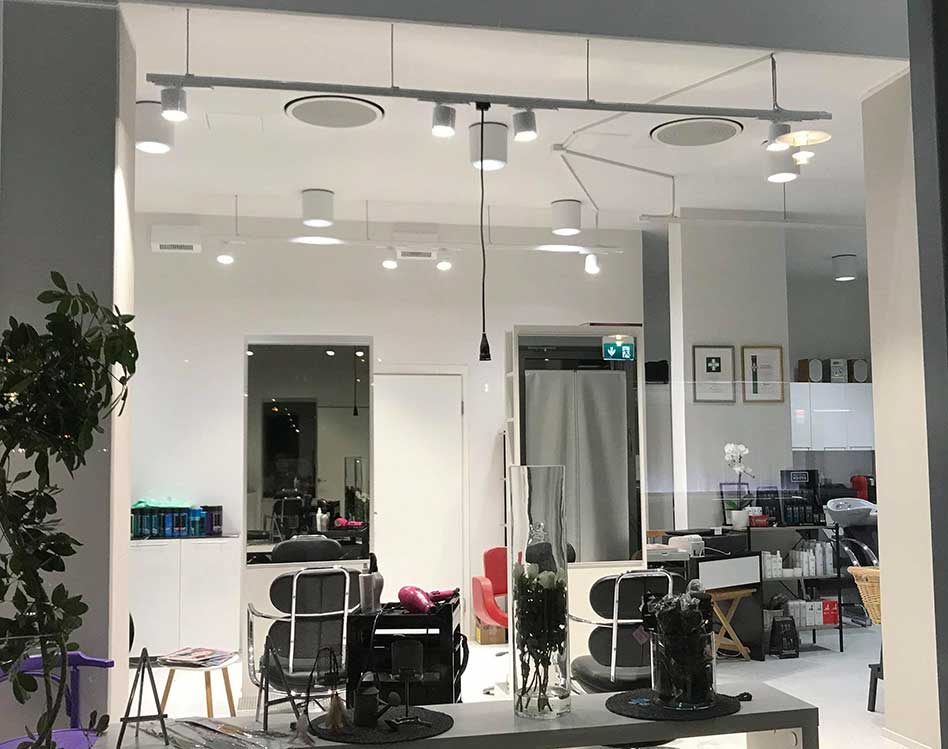 When the beaty salon is well lit, it will be noticed by the customers passing by. It is also important to design a hair salon shop window because it serves as a 24-hour marketing channel for the company. A customer who has passed by of a interesting window dsiplay often returns when the salon is open. It is important that the passerby notices the shop window and the company receives visibility which relates to the attention of its potential customers.
Finnish LIVAL luminaires are ideal for lighting hair and beaty salons. Both spotlights and downlights are available in different colors and shapes and with various technical features. The color reproduction feature of the luminaire is very important in the hairdressing environment. The color of the walls, the size of the space and the height should also be taken into account when choosing the luminaire. For best results, it is a good idea to consult a professional when choosing luminaires. Contact us and we will be happy to assist with lighting design and lighting.
Photo Hair Salon Hovikampa, Espoo